China wheel ball roller rolling bearing Miniature Deep Groove Ball Bearing 607 open oiled 7x19x6 mm Air Conditioner Forklift Parts gear ball bearings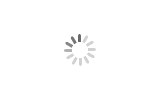 China wheel ball roller rolling bearing Miniature Deep Groove Ball Bearing 607 open oiled 7x19x6 mm Air Conditioner Forklift Parts gear ball bearings
10000 Pieces

China

7 days

200000 Pieces per Week
1 miniature ball bearing with smallest dimensions
2 suitable for high radial loads and light axial loads in both directions
3 suitable for high running accuracy, quiet running and very high speeds
4 seal: non-contact gap seal on both sides made of a profiled sheet steel disc (ZZ / 2Z) for higher speeds than with rubber seal
5 good fixed bearing property, but can also be used as a floating bearing, each in both directions
6 manufacturers of bearings
7 customize service
Applications
Types
Door and window sliding bearing
606
608
626
629
697
Auto bearing
R6
16005
6906
6805
6207
Washing machine bearing
MR106
6000
6005
6205


Agricultural Machinery Bearing
6007
6808
6202
6207
6308
Engine and skateboard bearing
R8
6908
6909
626
686
Motorcycle and bicycle bearing
16003
6811
6300
16002
6004
Air purifier bearing
6201 1/2 2RS
6202 1/2 2RS






Fitness equipment bearing
6200
6201
6203
6205
6000
Electric vehicle bearing
6000
6001
6002
6201
6202
Printer bearing
F688
F686
MF106




Power tool bearings
6000
MR148
6002
608
628
Textile Machinery Bearing
6205
6804
6207
6209
608
Electric fan bearing
693
626
6801
6301
6002
Computer fan bearing
MR52
MR63






Alarm clock and watch bearing
MR52
681
698
699


Fishing tackle bearing
R4
MR148
MR137
MR126
687
Electric toy bearing
606
6702
MR52
623
6901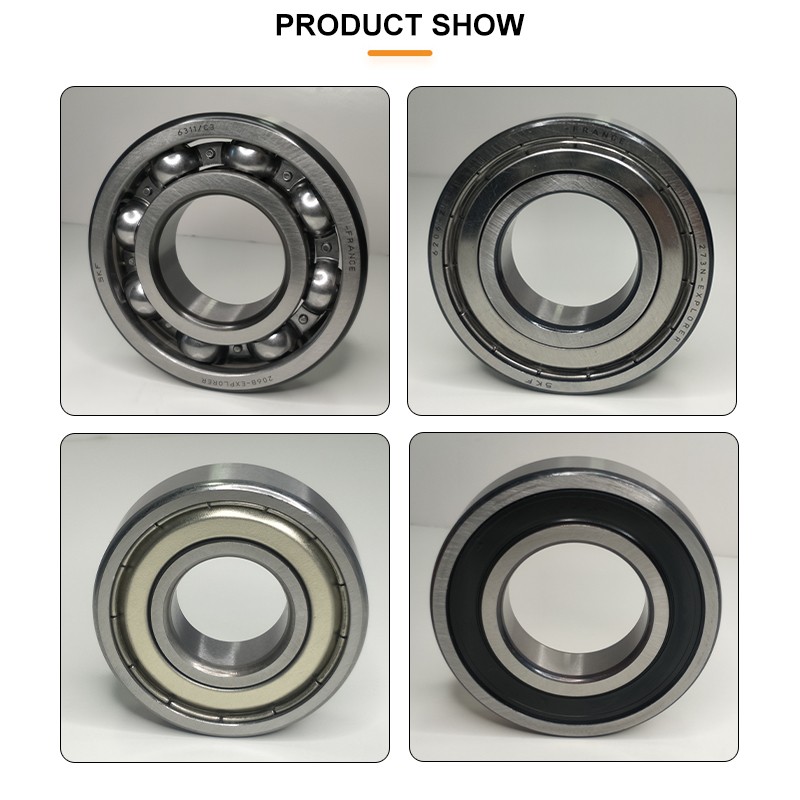 Miniature Deep Groove Ball Bearing 607 open oiled 7x19x6 mm
Inside Ø (mm):
6
Outside Ø (mm):
17
Width (mm):
6
Tolerance for inside-Ø (mm):
0/-0,008
Tolerance for outside-Ø (mm):
0/-0,008
Tolerance for width (mm):
0/-0,12
Rows Of Balls:
single row
Seal:
ZZ
Internal Clearance:
CN (Standard)
Flange:
no
Slot & Snap Ring:
no
Ring Material:
Chrome Steel
Rolling Element Material:
Chrome Steel
Cage Material:
Sheet Steel
Full Complement Ball Set:
no
Magnetic:
yes
Type of lubrication:
greased
Lifetime lubricated:
yes
Product weight:

0,0058

kg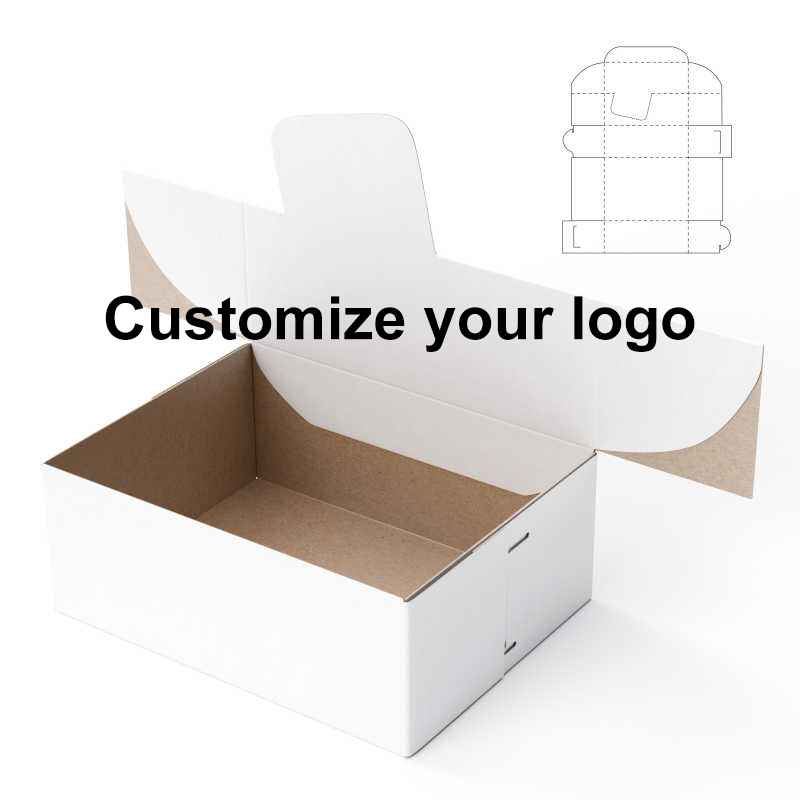 | | |
| --- | --- |
| Structure: | Deep Groove |
| Brand Name: | DSR Bearing, As the customer's requirement |
| Rating: | P0/ABEC-1, P6/ABEC-3, P5/ABEC-5 |
| Seals Type: | zz, open, 2rs |
| Number of Row: | single row |
| Clearance: | c2, cn, c3 |
| Vibration: | v1, v2, v3 |
| Noise level: | z1, z2, z3 |
| Quality standard: | ISO9001:2008 |
| Services: | OEM & ODM |
| Delivery time: | 10-30days, determined by the quantity |
| Bearing Package: | Bag, Roll, Box, Carton, Pallet |
| Payment terms: | L/C, T/T |
| Material: | Chrome steel(mainly), Carbon steel, Stainless steel, Ceramics |
| 6800 Series: | 685, 686, 687, 688, 689, 6800, 6801, 6802, 6803, 6804, 6805, 6806, 6807, 6808, 6809, 6810... |
| 6900 Series: | 695, 696, 697, 698, 699, 6900, 6901, 6902, 6903, 6904, 6905, 6906, 6907, 6908, 6909, 6910... |
| 6000 Series: | 605, 606, 607, 608, 609, 6000, 6001, 6002, 6003, 6004, 6005, 6006, 6007, 6008, 6009, 6010... |
| 6200 Series: | 625, 626, 627, 628, 629, 6200, 6201, 6202, 6203, 6204, 6205, 6206, 6207, 6208, 6209, 6210... |
| 6300 Series: | 6300, 6301, 6302, 6303, 6304, 6305, 6306, 6307, 6308, 6309, 6310... |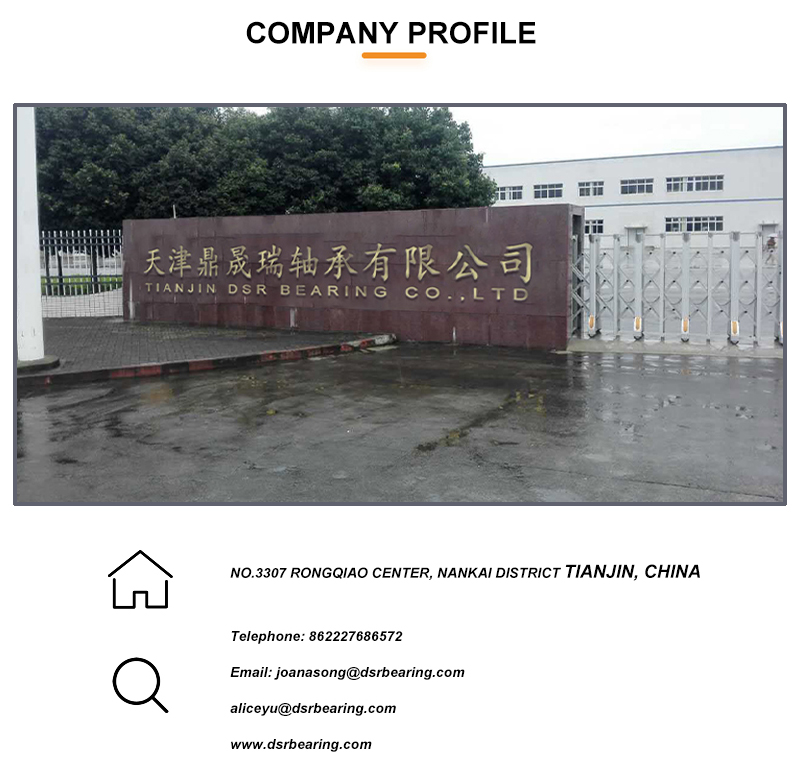 Tianjin DSR Bearing can supply you with the broadest possible array of bearings. In addition to Ball bearing, Roller bearing, Needle bearing, Pillow Blocks, we manufacture Flange blocks, Rolling mill bearing, Slide bearing and Water pump bearing. Our unparalleled experience as a total manufacturer and exporter for these industries is essential for the development and application of a premier product line for all general industries.

We pride ourselves on our ability to serve every customer, from backyard mechanics, to independent shop owners, to automotive technicians, to large manufacturing plants. Our Target Industries served are Agricultural Equipment, Cranes, Electric Motors, Gearboxes, Material Handling, Packaging Machinery, Power Tools, Pumps, Railways and Transportation, Robotics, and products for Textile Machinery. Tianjin Bearing Company is a stronger and growing exporter of bearing in China.

In addition to manufacturing commodity-based bearing products, DSR Bearing makes custom bearing solutions for OEM. Tianjin DSR bearing has stringent quality control standards and maintains complete control over supply, using only the highest grade bearing steel.

Our mission is to fully provide for you. Well into our more than Ten years of business, we are confident that you'll find what you're looking for in bearing product here. Please call, email, or stop by for more information.
We have well facilities and complete equipment strong technology and professional after-sales service.

1. World-Class Bearing: We provide our customers with all types of indigenous bearing with world-class quality.
2. OEM or Non-Stand Bearings: Any requirement for Nonstandard bearings is Easily Fulfilled by us due to its vast knowledge and links in the industry.
3. Genuine products With Excellent Quality: The company has always proved the 100% quality products it provides with genuine intent.
4. After Sales Service and Technical Assistance: The company provides after-sales service and technical assistance as per the customer's requirements and needs.
5. Quick Delivery: The company provides just-in-time delivery with its streamlined supply chain


Q: Is your company a factory or a trading company?
A: We have our own factory, our type is factory & trade.
Q: What is your company's minimum order quantity?
A: 1pc.
Q: Could you tell me the material of your bearing?
A: We can provide you with chrome steel, stainless steel, ceramic and carbon steel.
Q: Can you affix my brand name (logo) on these products?
A: Yes, we can customize it for you according to samples or drawings.
Q: Could you supply samples for free?
A: Yes, We are honored to offer you samples for quality check, do you only need to pay for the freight?
Q: Could you offer door to door service?
A: Yes.
Q: How long do I need to wait before my goods arrive?
A: International express delivery takes 3-5days, 5-7 days for air transportation and 35-40 days for sea transportation.
Q: What payment methods do you accept?
A: T/T, L/C.
How to Select:
- Choose the bearing model or size.
- Pricing adjusts according to the bearing size and quantity selected.
For Further Information About Our Products or Services, Please Contact Our Sales Team via Phone or Email Today.